5 tips for the best romantic getaway in Tulum
Any time is a good time to enjoy a unique and memorable romantic getaway with your partner in Tulum. Maybe a weekend getaway? Or a week-long escapade – it is an ideal plan to surprise your partner. Celebrate a special date for you or simply give yourself a well-deserved treat from time to time.
Regardless of whether you are going to prepare a romantic vacation alone or in good company, there are some ingredients that cannot be missing. Check out these essential elements of perfect romantic escape.
1. Choose an idyllic setting to enjoy your privacy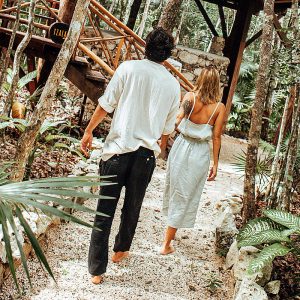 Although the essential thing is good company, for your romantic getaway to be unforgettable, it is important to live it in the setting where you feel like you're the only two people around.  In Tulum, you'll find a privileged and relaxing luxury tree house in the middle of nature is the perfect place to focus on each other … look into each other's eyes, listen to each other and enjoy peace, intimacy and total escape together. You will be seduced by silence and simply feel closer.
2. Bask on the unexpected
The surprise effect usually works well for lovers. Organizing a romantic getaway that is not expected is something that you will love and will never forget. Luxury hotels in Tulum come in very different cases. And the experience of a tree house in Tulum combines luxury with a unique hotel that will let you enjoy each other immensely.
3. Don't forget a romantic dinner
A delicious romantic dinner under the dim candlelight will be an experience for two that you will never forget. Isn't it a dream come true?
4. Add a touch of relaxation to your romantic getaway
To disconnect from the busy day to day, a relaxing massage will help you. Best for relaxing, de-stressing, relieving body tension, and increasing both physical and mental well-being. What would you love to let yourself be enveloped by these sensations with your partner?
5. Feel special enjoying breakfast, just you both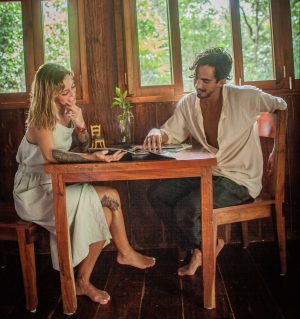 Every little detail counts during your romantic getaway, and a breakfast in bed is no different. Imagine starting the day lying in bed, while enjoying unbeatable company and savoring a delicious breakfast. With a varied breakfast, either in bed or in your private balcony you can start a new day of your romantic vacation in a very special way.
6. Choose a romantic hotel where you can disconnect
Keep in mind that three are a crowd on romantic getaways and choosing an adults-only hotel  in Tulum is taking a big step towards escaping as a couple. In addition, there are as many idyllic plans for romantic getaways as there are couples and moments. That is why it is so important to find the right place. Somewhere you can customize each idea to your liking, and have it be a grownup time where you can rekindle your love.
If you are looking to plan a romantic getaway in Tulum for you and your partner, Ajal  offers you a truly magical place, with luxury add-on services and an environment where you can really disconnect. Architecturally, the hotel is nestled in nature, offering a symbiosis with everything that surrounds us that will make you feel that you are in a magical place, where you set the pace.
In short, Ajal Tulum offers you a romantic vacation accompanied by the jungle landscapes in Tulum. Imagine being able to enjoy watching sunrise, sunset and nights of spectacular stars with your partner in our hotel with a 50 feet tall watchtower.
Are you ready to rewrite your story?