Reset & restore: a jungle experience
Finding the perfect balance is a process of reconnection, re-alignment and focus.
Relaxation isn't just about just de-compressing the body, but about encountering true wellness: an exercise of enlightenment of the soul.
When you think about the most relaxing place you could be, what is it that comes to mind?
Is it a lake, with the sound of water rushing through rocks, and the soft splashing of the wind against the surface? Or is it the jungle experience, with the soft murmur of leaves, wildlife and the intoxicating smell of humid soil?
What if you could have both in one place?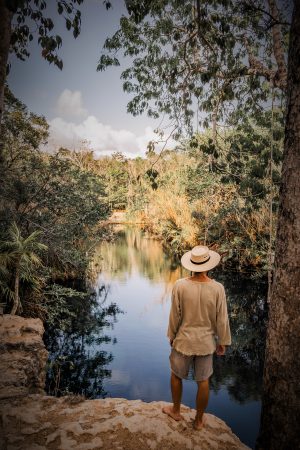 It is time to get out of the city and reconnect with nature and with your spirit. Feel the fresh air, see animals in freedom and enjoy the true essence of the wild, while submerged in luxurious treehouses.
Take a step into the jungle, or become one with the water –you will find within yourself the power that lays beneath. Through the mastery of shamans, alchemists and native Mayan healers, get reborn. Surrounded by the wild nature of this mystic land, the best version of you will finally lay bare for the world to see.
A jungle experience, the ultimate adventure
There's no lack of romance in losing yourself in the jungle, and Tulum is no exception. Good weather and sunshine are practically guaranteed, but Ajal's regulars are in love with their nights. On the balconies of your private tree house, you'll be able to have a soft lit dinner. Enjoy contemplating the contrast of the starry night and the soft sounds of nature.
Whether you are looking for an off-the-grid adventure solo, or an unforgettable tree house staycation, Ajal may be all you're looking for!
WHAT'S THE WORST THAT COULD HAPPEN? 
Once we are clear that carrying our worries in our suitcase does not add anything positive to our experience, the experience itself offers a refreshing perspective on losing yourself in a place where everyday worries are out of the window.
On a trip, to get lost is to enjoy if we manage to disconnect from the tension and be aware that a trip is a parenthesis and an opportunity to empty a glass that may be almost full.