The experience of staying in a sustainable hotel
An ecological or eco-friendly hotel is one that has an infrastructure and services that respect the environment that surrounds them. This applies to each of the elements that make it up: architecture, food and activities. One of the main pillars that Ajal Tulum is set in, is respect and devotion to nature, proposing it as a means of escape and balance between nature and luxury.
Ajal is located in the heart of the Tulum jungle, but 10 minutes away from the city center. You will find yourself in a place where, among trees, water and pure air, you will enjoy an unbeatable getaway.
The best environment where you can enjoy a few days of tranquility, relaxation and disconnection from day to day. Discover our best offers and do not miss this opportunity.
A universe of sensations at Ajal Tulum.
What makes Ajal a sustainable hotel in Tulum?
We give zero carbon footprint true meaning.
We believe that our leisure time should not compromise the state of our planet. Neither should it damage the natural habitat of the jungle in Tulum. That's why, we are proud to say that Ajal Tulum is an authentic off-the-grid, self-sufficient and eco-conscious property.
OUR OWN WATER SOURCES
Unusually close to the surface, rivers of sacred Mayan waters flow supplying Ajal with mineral rich super clean H2O. We tap into the underground freshwater system below our property.
SOLAR PANELS
Our energy comes from the solar panels installed on top of the watch tower above the canopy. Energy is stored in a battery bank located in the power shed at the base of the watch tower. You can also enjoy the view from above!
WASTE MANAGEMENT & COMPOST
In addition to having our own compost system, each tree house, public restrooms and restaurant have their own subterranean eco-friendly bio-digester so no pollutants escape into the ground or water ways.
LOCALLY SOURCED MATERIALS
Our buildings are locally sourced and built. Wood, stone and "coco-crete", an innovative twist on traditional earthy building material.
Our concept of a luxury hotel in Tulum adapts to the terrain and resources of the land – we never take what we cannot give back. 
For the adventure junkies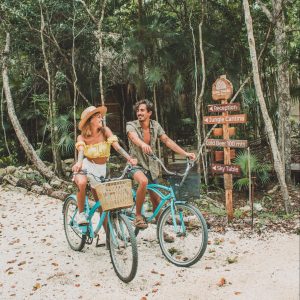 If you are looking for a dose of adrenaline, Tulum is everything you need. With bikes available on-site, you can bike into the city center and all the way to the beach. Something Tulum and the entire Mexican Caribbean offer is a ticket to the mystical and ancient cenotes.
With Cenote Escondido at a walking distance, you won't even have to leave the hotel premises to take a dip into the crystal clear waters that have been the life and magic of this beautiful land.
Trekking, monkey & bird watching and kayak sailing are some of the many activities that you'll have available in Tulum, and our staff will gladly assist you with more information.
Take the relaxation tour instead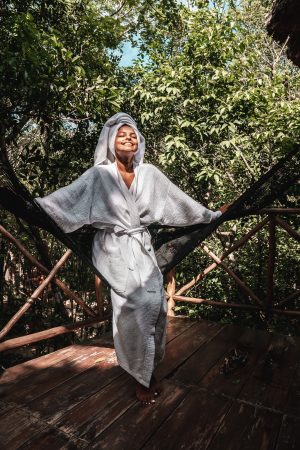 And if what you are looking for is something calmer, you can book yoga, mindfulness and reiki sessions without leaving this adults-only hotel. Something that is unique to Mexico are Cacao ceremonies, an intimate and very profound opening of the heart.
Cacao has been cultivated by the Mayans for over 2,500 years. Prepared according to the secret recipe, which is more than 600 years old, it is the door to take a trip to our interior and open our hearts.
Everything in our hotel is designed so that your getaway is perfect. You only have to worry about resting and enjoying the days you spend with us to the fullest.