Cochinita pibil at Ajal: a Mayan delicacy
There's many restaurants in Tulum that offer fusion flavors, international cuisine and fresh takes on traditional Mexican food. But it's only the best restaurants in Tulum that can offer authentic Mexican dishes.
With a full day and incredible guests at home, our friend Jax helped us document the entire process of traditional Cochinita Pibil.
A little history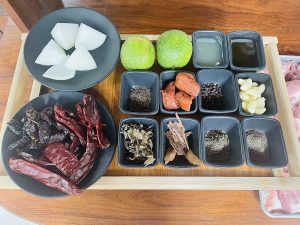 Cochinita Pibil is a stew made with shredded pork. This meat is marinated in achiote, sour orange juice, habanero pepper, salt and pepper. Then it is wrapped in banana leaves and cooked in the oven.
The name pibil comes from the way it is cooked, since pibil means "underground oven". Formerly this recipe was prepared in an underground oven where the meat was roasted for several hours.
Cochinita Pibil: A dish that mixes cultures
Cochinita Pibil is a dish from pre-Hispanic times, however you can see the Spanish influence in this dish due to its ingredients.
Pork: Formerly this dish was prepared with wild boar, pheasant or deer meat. However, when the Spanish arrived, they introduced pork.
It is said that it was in Yucatan the first place in Mexico where they tasted pork. That is why it is so present in your kitchen.
Achiote: The annatto is the fruit from a tree native to Central America and Mexico. Its fruits have reddish seeds. These seeds are used as a spice and as a coloring in foods. Its use in cosmetics is even common.
Sour orange: Sour orange juice is used in the recipe for Cochinita Pibil. These types of oranges come from Europe and were later introduced in Latin America.
Habanero Chile: It is one of the five most common peppers in Mexico.
As we have said, Cochinita Pibil is a traditional dish of Mexican cuisine. However, we can see in its ingredients the influence that history has had on this recipe.
You may like: The experience of staying in a sustainable hotel
Making cochinita at Ajal
Pib is a Mayan word that means "earth oven". It is used to describe the technique of cooking in an underground oven. This technique is from pre-Hispanic times and was used to cook meat. It was achieved by making a hole in the ground in which herbs or dry wood were burned. At Ajal, we take care of doing it with the original technique!
The meat is placed in a metal container and placed in the oven on previously roasted banana leaves. Cooking time can vary depending on the size but usually takes about three to four hours. The longer it simmers, the softer the meat will be. If you are looking for the best tacos in Tulum, this is it. Pair it with one of our fresh cocktails or a good 'ol beer.
Fun facts about Cochinita
The "pib" oven can reach a temperature of up to 200ºC / 390F.
This cooking technique is used in other Mexican dishes and not only to prepare cochinita (for example: lamb barbecue).
Through this cooking method, the pork is soft and manageable.
Perfect to pair with pickled red onions.
The sauce is made with sour orange juice, onion, cilantro, and habanero peppers.
This dish is served in all food areas of Yucatan.
Staying at Ajal, more than a hotel
We have made Ajal to be way more than just a stay. Our jungle hotel is about connection, romnce and luxury. Have you ever been to a place that is so beautiful, yet so peacefull, you cant get enough of? Each our rooms is a private oasis, and our property is nested between the jungle and a beautiful cenote.